Apple and Qualcomm are certainly not the only chip companies that use the ARM architecture to develop desktop computer systems. Rockchip, a domestic fabless chip design company, is developing its high-end RK3588 SoC, promising to combine performance and low power consumption. One of the most anticipated processors.

RK3588 is Rockchip's new generation flagship SOC.
It adopts 8nm process technology, big.LITTLE design based on A76 + A55, with 4K UI performance, 8K VPU, NPU2.0, etc. The built-in dedicated NPU is mainly used for AI applications. RK3588 supports 8K video decoding and 4K video encoding, and also supports multiple 4K outputs, which is very attractive for high-end display applications.
Main features of RK3588:
1.CPU: 4 Cortex-A76 and 4 Cortex-A55 cores with dynamic configuration
2. Graphics processor: Equipped with a "natural" graphics processor
3. Neural Processing Unit 2.0
4. Multimedia: 8K video decoding support, 4K encoding support
5. Monitor: 4K video output, dual monitor support
6. Processor: 8nm low voltage
In order to provide more competitive performance, SoC not only needs to support traditional computer interfaces, but also needs to meet the needs of new-generation devices such as AR/VR equipment, so it must also support a variety of I/O interfaces, which is exactly what Rockchip RK3588 does.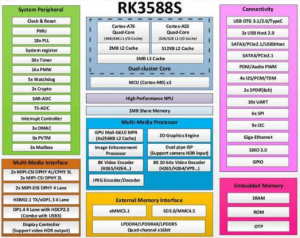 CPU, RK3588 adopts the typical large and small core architecture of 4-core Cortex-A76 and 4-core Cortex-A55, the main frequency of the large core is 2.4GHz, and the main frequency of the small core is 1.8GHz, which fully considers the balance of performance and power consumption. 1MB L2 Cache and 3MB L3 Cache, providing stronger CPU computing power.
GPU, RK3588 integrates ARM Mali-G610, supports at least 2 channels of 4K UI, and can run complex graphics and games smoothly.
NPU, RK3588 integrates Rockchip's fourth-generation artificial intelligence computing engine with completely independent intellectual property rights, which increases the utilization rate and bandwidth consumption of the MAC computing unit by 30%. The 6TOPs NPU computing power enables various AI scenarios, providing various possibilities for applications such as local offline AI computing in complex scenarios and complex video stream analysis.