Rockchip's 6th Developer Conference: Make products with cores, conspire with the AIoT core ecosystem, and thank our partners for walking together for 20 years.
On December 16-17, 2021, the 6th Developer Conference (RKDC2021) organized by Rockchip Microelectronics Co., Ltd. (hereinafter referred to as "Rockchip") was held in Fuzhou. The largest event in the anniversary series, with the theme of "making products with cores".
Around the hot topics of AIoT, artificial intelligence and the Internet of Things, industry leaders have expressed different opinions on their own fields, and discussed technology forecasts and innovative ideas for new market trends.
Eight major application directions of a new generation of top flagship AIoT chip RK3588 were announced at the conference. The chip application exhibition area displayed nearly 200 terminal products equipped with Rockchip solutions, covering security, education and office, smart home, smart cockpit, smart hardware, industrial applications, etc. 100 industries; 21 new ecological partner exhibition areas for the first time; heavyweight industry leaders attended to share industry experience, and have face-to-face discussions with industry leaders and developers.
At the conference, Rockchip released RK3588 with emphasis, showing eight application directions of RK3588, including smart cockpit, smart large screen, virtual/augmented reality, edge computing, IPC, NVR, high-end tablet and ARM PC, and exhibited around the eight directions A variety of application terminals equipped with RK3588 have been released, showing the performance of RK3588 in all aspects from computing power, perception ability, display ability and connection ability.
< Seven Application Exhibition Areas Empowering AIoT Thousands of Industries >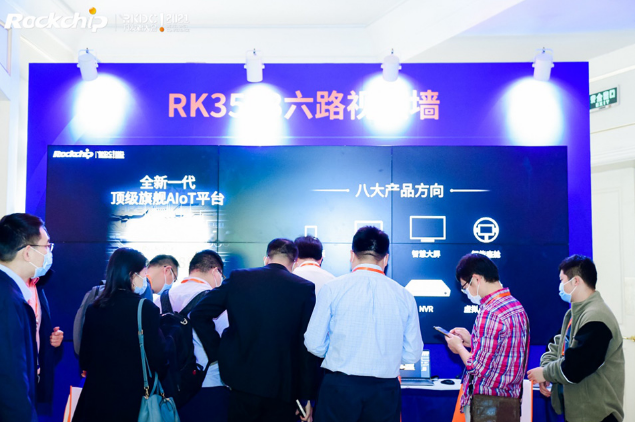 In addition to the RK3588 exhibition area occupying position C, there are also seven application exhibition areas: new product exhibition area, smart security exhibition area, automotive electronics exhibition area, industry application exhibition area, smart education office exhibition area, smart home exhibition area and hardware ecology exhibition area.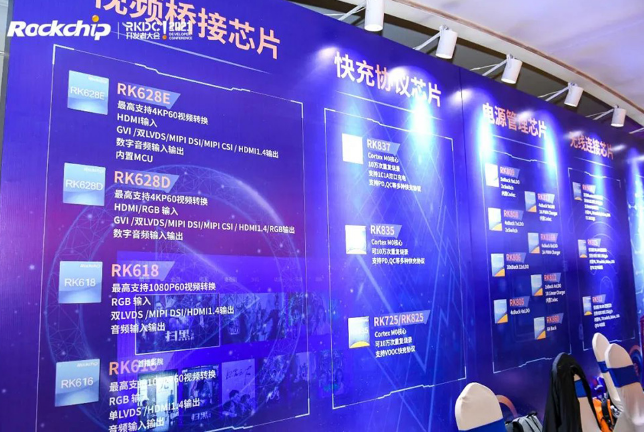 The smart security exhibition area showcases the multi-scenario security applications of Rockchip smart vision chips RK3568, RV1126, RV1109, covering families, communities, transportation, fire protection and office parks, etc. NVR, etc.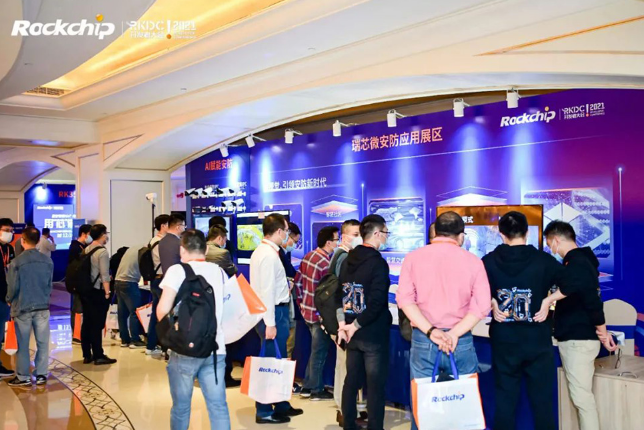 In the automotive electronics exhibition area, the smart cockpit solution equipped with RK3588 "one-core multi-screen" was released, and various automotive product applications of Rockchip's solutions were exhibited, including smart cockpit, 360° panoramic navigation integrated machine, smart full LCD instrument, Streaming media rearview mirrors, driving recorders, etc., respectively use Rockchip automotive-grade chips RK3588, RK3358M, and RK3568M, followed by vehicle-mounted chips RK3566, camera chips RV1126 and RV1109. Rockchip demonstrated its advanced layout in the field of automotive electronics, providing customers with a variety of cockpit SoC chip choices.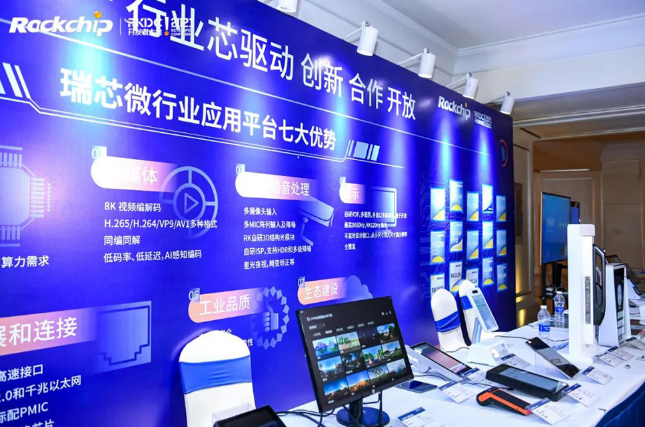 In the industry application exhibition area, Rockchip, with its seven platform advantages including AIoT processor, multimedia, visual/voice processing, display, connection expansion, industrial quality and ecological construction, empowers thousands of industries, in commercial display, smart retail, industrial control, smart There are many mature cases in the fields of vision, gate, cloud terminal, server, smart home, and smart office.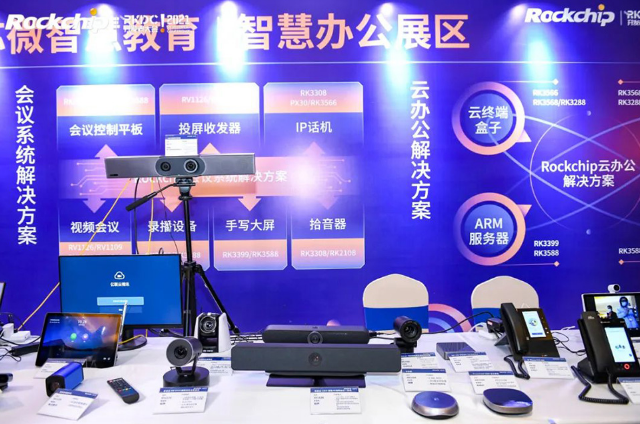 The smart education office exhibition area showcases the technical advantages and stable and reliable product performance of the three major scenarios of Rockchip solutions, covering nearly 100 product terminals in educational electronics, conference systems and cloud office scenarios.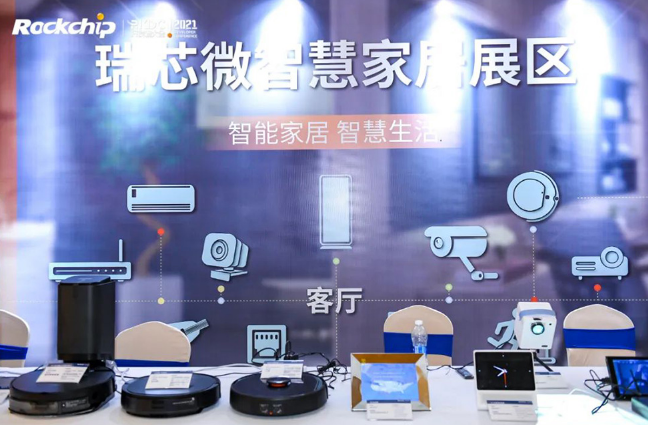 The smart home exhibition area shows the mature implementation of Rockchip solutions in various scenarios of home intelligence, including smart door locks, video doorbells, building intercoms, floor sweepers, smart speakers, air conditioners, etc. in the living room, and Various high-end series of household appliances in the kitchen, technology empowers all aspects of home life.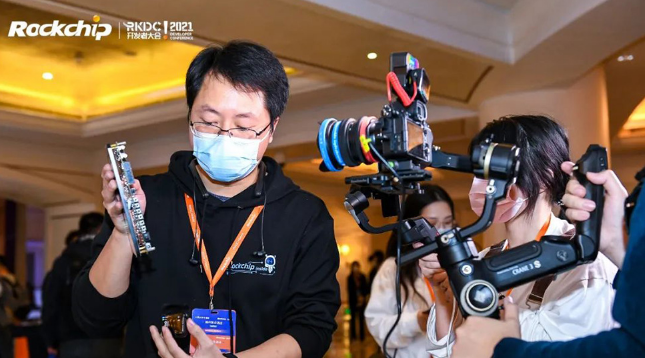 In the hardware ecological exhibition area, the development board equipped with RK3588 was released to developers for the first time, and more than 100 industrial motherboards and development kits equipped with Rockchip RK3568, RK3566, RV1126, RK3399Pro, RK3288, RK3399 and other chips were also displayed, which can be applied to Edge computing, commercial display, vision, industrial control, education, new retail, Internet of Things, etc. The development board supports adaptation to different systems, is equipped with rich peripheral interfaces, and has a friendly development environment, which has attracted much attention from developers.
More information please contact us for your special solution.